Essequibo scholar shines at University of Guyana
Essequibo scholar shines at University of Guyana
Essequibo scholar shines at University of Guyana
21st November, 2018
0 comments
By Indrawattie Natram
TWENTY-one-year-old Rovindra Lakenarine, who lives in Golden Fleece Village, Pomeroon-Supenaam ( Region Two) has graduated as the Second Best Graduating Student for the Department of Biology, Faculty of Natural Sciences at the University of Guyana. Lakenarine was given the award at the 52nd Convocation Ceremony held on November 9.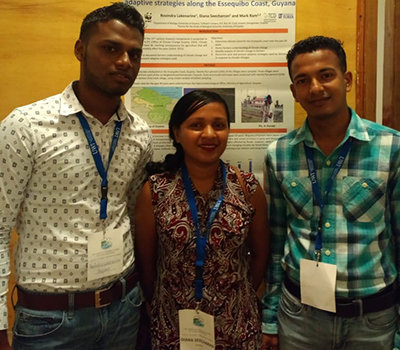 Rovindra Lakenarine with his supervisors, Diana Seecharran and Mark Ram, at a recent conference
The award is given to the student who has obtained at least a credit and made significant contributions to the University in areas other than academics. During an exclusive interview with Lakenarine, he was very much elated over his success. According to him, his biggest dream was fulfilled having successfully completed his studies at the University of Guyana.
Both his parents, Deonarine Lakenarine, who is a farmer and mother, Banmattie, were very proud of their son's achievements.
Coming from a humble beginning, Lakenarine said that he left the agriculturally0based community of Golden Fleece in the year 2014 to pursue a Bachelor's of Science Degree in Biology. Lakenarine will be the second person in the community of Golden Fleece to earn a Bachelor's of Science Degree. Remaining focused throughout his studies, Lakenarine said one of his major challenges was adjusting to a new environment and moving from a rural area to the city.
"It took a while to adjust to the Georgetown lifestyle, but I remained focused and with the support of my parents and sibling, I managed to achieve success," Lakenarine said.
Another challenge for him was coping with a large volume of work after leaving high school, "University life was definitely new for me. After finishing my studies at the Anna Regina Multilateral Secondary School, I immediately enrolled at UG.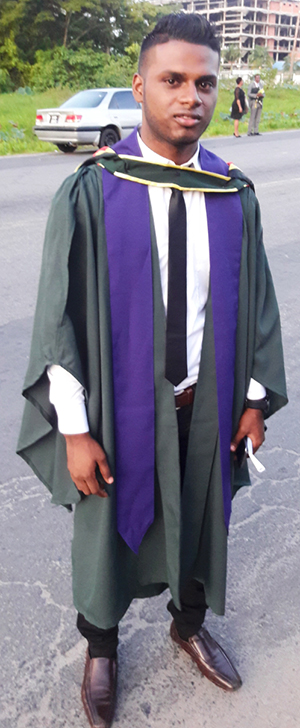 Twenty-one-year-old Rovindra Lakenarine, of Region Two.
It was so new, jumping right into university where you have lecturers instead of teachers, where you are taught PowerPoints in the classrooms with over 500 students. I must admit that the lecturers took the roles of teachers and assisted me tremendously into the tertiary level," Lakenarine said.
Having shared his experiences, he intends to pursue postgraduate studies in the areas of Marine and Climate Change Biology. He said he is particularly interested in understanding the effects of anthropogenic after affecting marine organisms.
ACHIEVEMENTS
Lakenarine said that he has graduated with a distinction from the University of Guyana. Prior to his graduation, he had attended a few conferences representing the Faculty of Natural Sciences. During conferences such as the Latin America and Caribbean Congress for Conservation Biology (LACCCB); University of West Indies, St Augustine Campus, University of Guyana Undergraduate Research Conference 2018 and at a conference held at the National Agriculture Research Extension Institute, Lakenarine used the opportunity to introduce his research which was based on the "Impact of climate change on farmers and their adaptive strategies along the Essequibo Coast, Guyana".
Having grown up in a farming community, he said he gathered most of this knowledge from his father who is a rice farmer. During the LACCB he received the award for the best student presentation.
During his time at the University of Guyana, he was elected as the President of the Biology Club (2017-2018). As president, he organised the first Earth Hour event on campus; Women and Girls in Science Seminar; World Wetlands Day presentation; hosted a tree planting and clean-up of the Biodiversity Centre, among others.
He was one of the proactive leaders in his class and most times was the representative for the Faculty of Natural Sciences at several events, including the UNSECO/UNDP Webinar "Youths on the frontline of Climate Change" 2018. He was also the coordinator for several events including the Guyana Gateway Initiative Workshop, which hosted several international researchers and a statistical analysis workshop for final year biology students.
His free time was spent participating in several workshops/trainings/short courses which included, From Source to Sea Sustainability; Wildlife Research Techniques; Guiding Tools for Scientific Writing; Qualitative Research Methods for Wildlife Conservation; Parrot Conservation Workshop; Field Guides Museum Workshop and Mushroom Cultivation and Vermicomposting Workshop.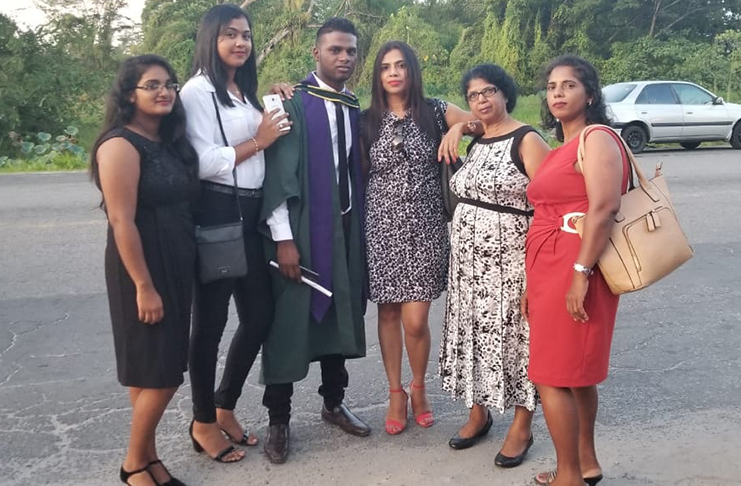 Rovindra Lakenarine standing with his relatives after his graduation
Having completed his studies at the University of Guyana and reflecting, Lakenarine said the experience gained was truly transformational. He encouraged youths to pursue their education at the University of Guyana and not to stop at a secondary education. He wishes to thank his family, relatives and the staff from the Department of Biology and the Centre of Study for Biological Diversity, for guiding him through his studies.
Lakenarine said that his family was his greatest motivation. His favourite quote is a Mark Shamley one which says, "Learning is a treasure that will follow its owner everywhere."
Source: http://guyanachronicle.com/2018/11/18/essequibo-scholar-shines-at-university-of-guyana
Contact Us
The University of Guyana
Turkeyen Campus
Greater Georgetown
Guyana
+(592)-222-2740
+(592)-623-8325
admissions@uog.edu.gy