Overseas-based Guyanese tech mogul invests in University of Guyana and local ICT sector
17th June, 2018
0 comments
Impressed by the talents that exist within the local Information and Communications Technology (ICT) sector, one overseas based Guyanese, who has demonstrated prowess on the world stage, has committed his efforts toward the development of the sector locally.
Dr Jason Mars, co-founder and Chief Executive Officer of Clinc, a company that is said to have created the world's most sophisticated and comprehensive conversational Artificial Intelligence (A.I) platform for enterprises, has embarked on the establishment of a scholarship programme that would afford Computer Science Majors at the University of Guyana (UG) an opportunity to pursue PhD studies at the University of Michigan.
Added to that, he has also began networking with local tech companies, an interaction that has led to individuals being invited to train and work on a project for the Ford Motor Company.
In a recent interview with Sunday Stabroek, Dr. Mars, born to Guyanese parents Joan and Perry Mars, explained that though he was born in Jamaica, he spent several years in Guyana before migrating to the US at the age of eight.
It was during his schooling in the US that his interest in computer science was sparked and later manifested into what it is right now.
With a PhD in Computer Science from University of Virginia, the 35-year-old was recognized as one of the ten most innovative CEOs in banking by Bank Innovation. He is also a professor of computer science at the University of Michigan, where he directs Clarity Lab, one of the best places in the world to be trained in A.I. and system design. Prior to the University of Michigan, Dr. Mars was a professor at the University of California San Diego. He also worked at Google, Intel and IBM. Dr Mars' work building the world's first open-source platform for constructing large-scale A.I. and deep learning-based Intelligent Personal Assistants (IPAs) has been recognised globally and continues to have a significant impact on industry and academia.
Clinc began as a research group at the University of Michigan under the name Clarity Labs Inc; a name which was later shortened to Clinc. The company was launched in July, 2015, with a mission to redefine experiences through Conversational A.I and presently has 100 plus employees, having doubled its staff only three months ago.
For those who may not be entirely familiar with the term 'Conversational AI', it is simply software that allows interaction through conversation, such as is the case with the popular Siri, Alexa and Google Assistant. However, the technology developed by Clinc is said to be much more sophisticated.
According to the CEO, the Clinc team has spent a lot of time building and growing the company and has offices in Michigan, San Francisco and London. Clinc also has customers on four continents, mostly with large enterprises in America, Canada, the United Kingdom, Turkey, and Singapore. Its success as a company thus far is mirrored in the works it has done for enterprises such as Barclays Bank in the UK, Wells Fargo, Ford and other large companies.
According to Dr. Mars, while they would have placed a lot of focus on development of Conversational AI for financial institutions, they have since branched off. This decision has led to plans to re-launch the company later this year as they are able to support a number of different fields through the development of conversational A.I. for all experiences.
Deepening ties
But even with all of this going on, Dr Mars says he is still very much interested in deepening ties with the local tech sector. The CEO explained that though he left Guyana at a young age, he still sees Guyana as home and as such, he visits often and is willing to assist in whatever ways he can to help with the economic development of the tech sector here. He explained that during his last visit to Guyana in May, he met with the Vice-Chancellor of the University of Guyana and was able to select two Computer Science Majors for the Scholarship programme.
"The beautiful thing about Guyana is that it has intellectual and energetic young people with fires in their belly to do good work," Dr. Mars said, while expressing the belief that there needs to be more work in educational development in order for persons to be able to compete globally.
"I saw an opportunity to bring them to do studies at a top university in America", the CEO said. He also expressed the hope of being able to make the initiative an annual occurrence.
Meanwhile, Sunday Stabroek was told that while the initial plan was to select only one person, because he was truly impressed by the talent he came across, a decision was made by Dr Mars to select two persons. They are: Christopher Clarke and Roland Daynauth.
Dr Mars explained that while Daynauth is expected to start later this year, Clarke will be applying at the end of summer and is expected to start early next year. Regarding the networking with local tech companies, Dr. Mars spoke highly of Version 75 Solutions (V75), a social impact focused software company in Guyana.
According to Dr. Mars, he connected with Eldon Marks, CEO and Founder of Version 75 Solutions, after asking around to meet leaders in the local tech sector.
Dr. Mars said he found particular interest in a V75 social impact project, for which Clinc has since offered funding.
It was further explained that because Dr. Mars was so impressed with the talent he saw, he invited Marks and two of V75's team members to Ann Arbor, Michigan to undergo competency engineer training on his company's AI platform. According to Dr. Mars, the duo has since been assigned tasks on a project undertaken by Clinc for the Ford motor company.
Something Different
For his part, Marks told Sunday Stabroek that Dr Mars and his company bring "something different" to the table. He explained that while his company would have been contacted in the past by foreign companies, he found that they were more or less looking for cheap labour.
This, however, is not the case with Clinc, as they have shown that they not only value the work of the local tech community, but are also genuinely interested in giving back through exposure and opportunities.
Marks also confirmed that V75 team members Asa Brouet and Shemar Lindie have been assigned tasks in the completion of a project for Ford undertaken by Clinc, and he added that the men are thrilled to be working on the project, while adding that he continues to receive excellent feedback from Dr. Mars and his team.
"There is so much that can be done and it's really sad to see that the talent does not have the ability to create value for the entire world. I saw an opportunity to create an avenue for those doing computer science so those resources can be funneled into Guyana," Dr. Mars said.
"I will contribute to sparking and building the tech sector in Guyana. We are just getting started…We are excited about what we are doing and I am committed to investing in Guyana and helping to contribute to the economic development of the tech sector, so stay tuned," he added.
Empowering others through ICT – Eldon Marks is living his dream
18th April, 2017
0 comments
"LIVE YOUR dream. Be as crazy as you possibly can be, ignore the status quo, set your goals and go after them with blind determination," Social Entrepreneur, Eldon Marks said as he addressed a room full of entrepreneurs and software developers in a collaborative work space he had developed with his business partner, Chitra Dwarka.
Marks, who ever so often describes himself as a dreamer, is no stranger to Guyana, having won the Ministry of Public Telecommunication's first Hackathon along with his team from Version75 Solutions (V75) in November, 2016. But long before he had risen to stardom, Marks had been quietly working behind the scenes, molding the nation's youths to be the best version of themselves.
For 12 years, he lectured and mentored hundreds of students at the Department of Computer Science at the University of Guyana. It was at that university that the former Bishops' High School student had acquired his undergraduate Degree in Computer Science before pursuing a Master's Degree in Computer Science at Howard University, Washington D.C. At Howard he specialized in Artificial Intelligence and completed the programme in three semesters with a 4.0 GPA.
"I owe much of academic and professional development to the University of Guyana, more specifically to my former lecturers in the Department of Computer Science who later became my colleagues and mentors. The environment that I was afforded as a student and subsequently as a young lecturer gave me the opportunity to discover my true potential and reach further than I had ever conceived."
Although being exposed to what many describe as the "world of opportunities," Marks opted to return home to contribute to the development of his country in the fields of Information and Communication Technologies (ICTs) and Entrepreneurship.
"Looking out from a developing economy, it is easy to see what we don't have and it is easy to be consumed with studying our problems instead of solving them. ICT Entrepreneurs are much needed in Guyana for two reasons: (1) it is widely accepted that digital industries where an individual can electronically provide services and products regardless of geographic location are significant drivers for economic growth – simply put, a trained web designer with a laptop and Internet access can quickly and readily earn a decent living, even in Guyana. (2) The entrepreneur mindset is concerned with assessing problems to quickly and effectively solve them – taking action over talking about it."
Further, driven by his personal philosophy drawn from spiritual teachings and his innate desire to empower others while empowering himself, the husband and father of one made one of his many dreams a reality developing his own company – Version75 Solutions.
Marks explained that V75 is a community disguised as a company uniting user interface design specialists, graphics designers, marketers, web developers, mobile application developers, database developers and software engineers to deliver the most effective, comprehensive and unified solutions.
As a 'dreamer,' he told the budding entrepreneurs and software developers that there were risks that he had to take but it was important for his dream to materialize.
"There are realists and then there are dreamers. A realist would understand certain parameters and these parameters would be based on what they can see, what they can touch, what they can feel," he posited while explaining his perspective.
A dreamer, on the other hand he explains, pushes beyond the limits set by society. "So being a dreamer really means constantly challenging those social norms, the status quo, pushing the limits and eventually discovering what more we can actually do and how much more we can deliver," he explained.
For him there is no harm in taking risks. "There is really no harm in taking that risk of setting an objective, however, crazy it might be. You set the objective as high as possible and whether you achieve it or not, you learn from it. Be as crazy as you possibly can be, ignore the status quo, set your goals and go after it with blind determination," he posited.
Though there will be challenges, there are meant to be overcome, Social Entrepreneur emphasized.
Here in Guyana, Marks and his team at V75 were faced with the sad reality that acquiring local support from businesses in the field of ICT was a difficult one. But instead of 'packing up shop' and opting to do something else, they decided to target foreign markets. "Locally we are faced with this stigma with respect to our own local developers…. We have this diminished image of our own skills as Guyanese," he explained. Its first client was a Canadian company.
"Through networking, we were fortunate enough to secure an offshore client – a Canadian Insurance Company," he added. Today, 64 per cent of its projects are for clients outside of Guyana.
There was another challenge V75 had faced during its initial phase – the team had difficulties finding a common work space. It was out of that challenge that WeOwn Space was established approximately seven months ago.
The collaborative work space, situated at Lot 3 David Rose Street and Aubrey Barker Road, South Ruimveldt Gardens, Georgetown, in the words of Marks, "gives local startups a fighting chance," on a daily basis. It was further explained that WeOwn Space provides a unique environment for co-working, leaning, collaborating and networking to support Guyanese on their professional journey.
Though Marks is the founder of V75 and the Co-founder of WeOwn Space, he said for both entities there is no boss, noting that the input of all team members is important and valued deeply.
Outside of the world of ICT, Marks said he is a husband and father one. He said while pursuing one's dreams is important, family is important too.
"It is no easy task to be a full-time professional and have a family. The constant context switching and collection of responsibilities can often force you to choose one or the other. In my case, my family is the reason that I became a social entrepreneur who lives up to delivering value. I can better provide for them today while leaving behind a slightly better world, tomorrow."
Article adapted from: http://guyanachronicle.com/2017/04/09/empowering-others-through-ict-eldon-marks-is-living-his-dream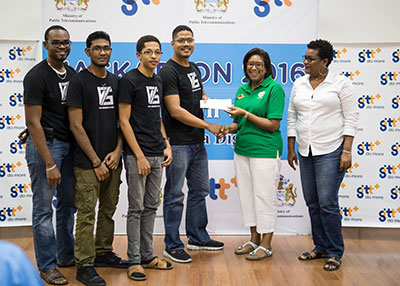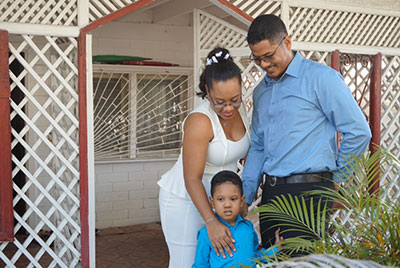 Contact Us
The University of Guyana
Turkeyen Campus
Greater Georgetown
Guyana
+(592)-222-2740
+(592)-623-8325
admissions@uog.edu.gy